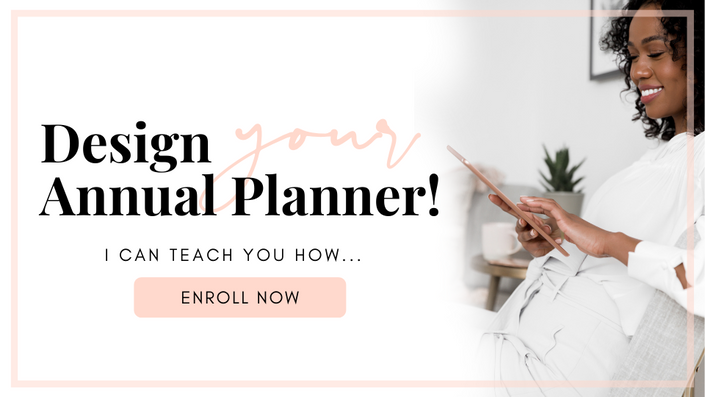 Learn to Design Your Own Annual Planner!
I'm going to take you from DESIGN to LAUNCH in 6 Weeks!
Watch Promo
Are you ready to design your own Annual Planner?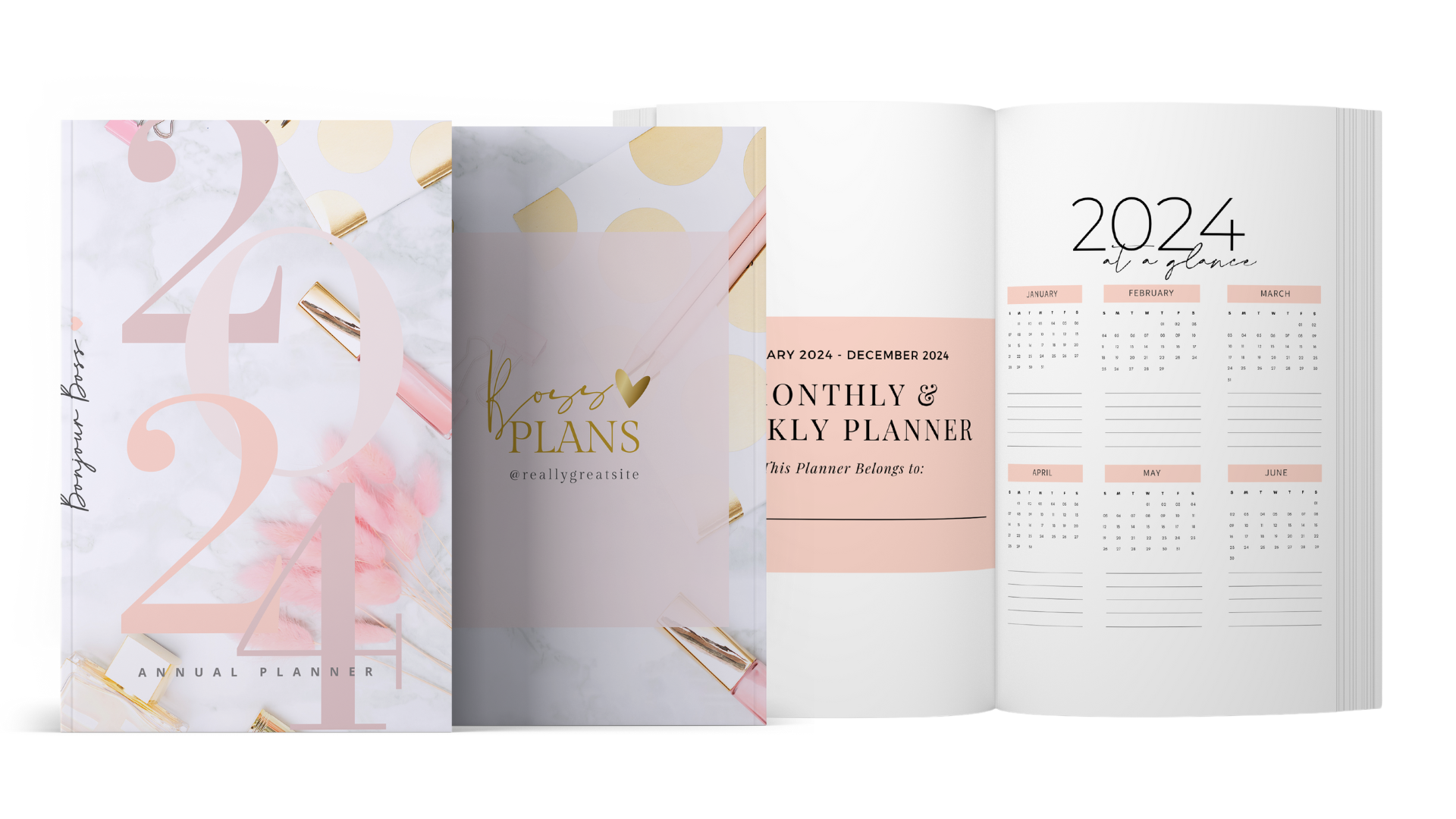 Have you always dreamed of launching your own Planner for your current audience?
Have you been STUCK trying to figure out how to get it designed, printed, and shipped?
It's time for you to get UNSTUCK!
I have the perfect solution for you.
Embark on a 6-Week Adventure to Plan and Launch Your 2024 Annual Planner for Your Tribe. Exciting Bonus: Get an Undated Planner Template for Timeless Flexibility. Empower Your Tribe to Purchase Anytime!



In this transformative 6-week program, we will embark on an incredible journey to:
1. Craft a Captivating Annual Planner Cover: We will work together to design a stunning cover that captivates your audience and sets the stage for success.
2. Personalize Your Planner Layout: Utilizing my exclusive custom Canva template, we will tailor your planner layout to perfection. From incorporating your company logo and brand colors to selecting fonts, text, and imagery that truly resonate with your tribe, every element will be thoughtfully customized.
3. Ignite Pre-Sales with a Compelling Landing Page: Launch a dynamic Pre-Sale Landing Page that fuels anticipation and prompts your audience to take action. This strategic move will allow you to start pre-selling your Annual Planner with confidence and effectiveness.
4. Boost Engagement with a Downloadable Freebie: Create an irresistible downloadable freebie, tailored specifically for your clients, that serves as a powerful tool for driving pre-sales. This value-packed resource will enhance engagement and incentivize your audience to make the leap.
5. Enthrall with a Mock Up Image and Promo Flyer: Amplify your pre-sales efforts with a mesmerizing mock-up image and a captivating promo flyer. These visual assets will leave a lasting impression on your audience, generating excitement and boosting interest in your Annual Planner.
Join me in this exciting course and let's get that planner launched!
What will the Annual Planner Include?
Annual Planner Cover Design Template
Goals Overview Pages
4 Quarterly Goals Pages
Year-At-A-Glance Pages
Monthly Overview Pages
Monthly Planner Pages
Weekly Planner Pages
Daily Planner Pages
Custom Motivational sayings, scriptures, etc. throughout
This 169 page layout can be customized with your Company Logo, Brand Colors, Fonts, Text, and Imagery.
A few Sample Planner Pages: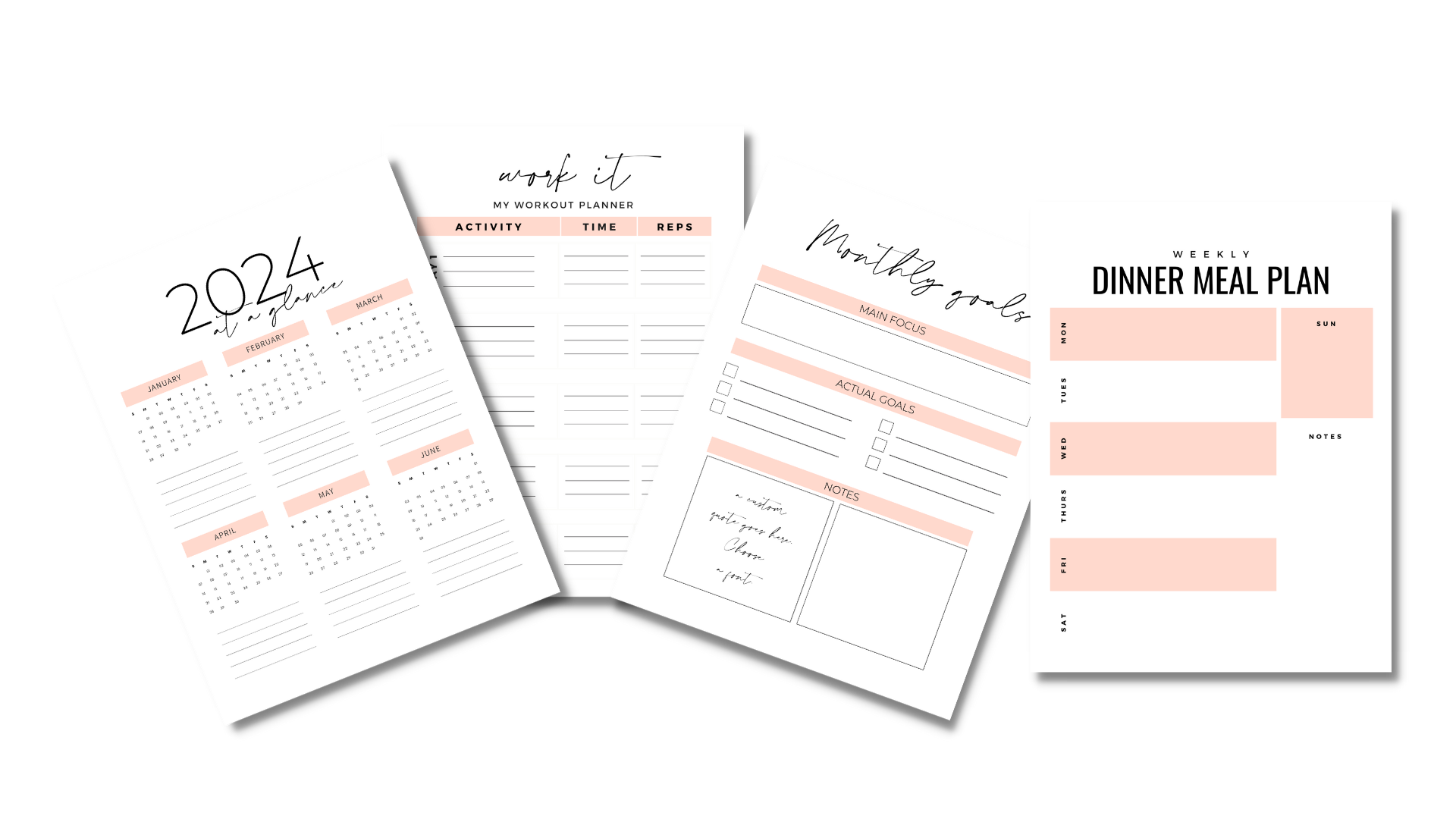 Will I need to sign up for any online platforms in order to complete the course?
Yes, you will need the following:
(In the spirit of full disclosure, the links listed above are affiliate links, which means that I will earn a commission if you decide to make a purchase. This commission comes at no additional cost to you. I only recommend products & systems that I use and love, so I know you'll be in good hands.")
Weekly Breakdown
This course is broken down into 6 weeks and it's a completely self-paced online course - you decide when you start and when you finish. You will have lifetime access to the course.

Course Curriculum
Week 1: We will focus on Content and Branding. We will start focusing on the overall theme of your Annual Planner. ​
Available in days
days after you enroll
Week 2: Learn to customize your Annual Planner Cover using Canva.​
Available in days
days after you enroll
Week 3: Learn to customize your Annual Planner Cover using Canva
Available in days
days after you enroll
How much is this going to cost me?

$97
What's included in the fee?

Custom Cover Design - Annual Planner Custom Cover Design template
Inside Layout - 2024, 2023, 2022, and Undated Annual Planner layout using a custom pre-designed template. This Canva template can be customized with your Company Logo, Brand Colors, Fonts, Text, and Imagery.
Landing Page - Pre-Sales Landing Page for your Annual Planner. I will show you exactly how to design a Landing Page using one of my Pre-Designed LeadPages Templates.
Custom Lead Magnet - Learn to create a downloadable freebie to help pre-sale your Annual Planner
Promotional Designs - Learn to design a Mock Up image and Promotional Flyer that will help with Pre-sales
Assistance with submitting your Annual Planner to the printer. I will show you exactly how to upload your planner to Amazon KDP.
Access to a Private Facebook Group and Live Virtual Events with Candice Kilgore and fellow entrepreneurs.
Who is this 6-Week journey for?
Online Coaches, Bloggers, Entrepreneurs etc. that would like to offer a simple branded planner to your audience to follow throughout the year.
Those of you looking to just GET IT DONE! You keep saying every year that you would like to create a planner for your audience and you never do it.
Those of you looking to make some MONEY from your Planner sales.
Those of you ready to stop being a chronic perfectionist and just get your first planner out already! You can do a fully customized planner next year….however for now you just need to focus on putting out a solid, simple, and professional planner for your Brand fanatics.
Who is this 6-Week journey NOT for?
Entrepreneurs looking to have a complex and customized planner layout designed. (With this program, all clients will receive the same pre-made Canva template that can be customized with your own Brand Color, Fonts, Text, Imagery, and Logo.)
Perfectionist that plan on procrastinating another 3 years perfecting their first planner.
Procrastinators and "Talkers"... you know those that say, "I'ma do this...I'ma do that…" and you NEVER DO IT!!!
Meet Your Designer and Leader of this Journey.
I'm Candice Kilgore, and I'm dedicated to teaching entrepreneurs like yourself how to D.I.Y. Your Own Brand. I recently launched my new website www.diymybrand.com I understand the benefits of being able to jump right in and design some of your own branding materials as soon as that idea strikes!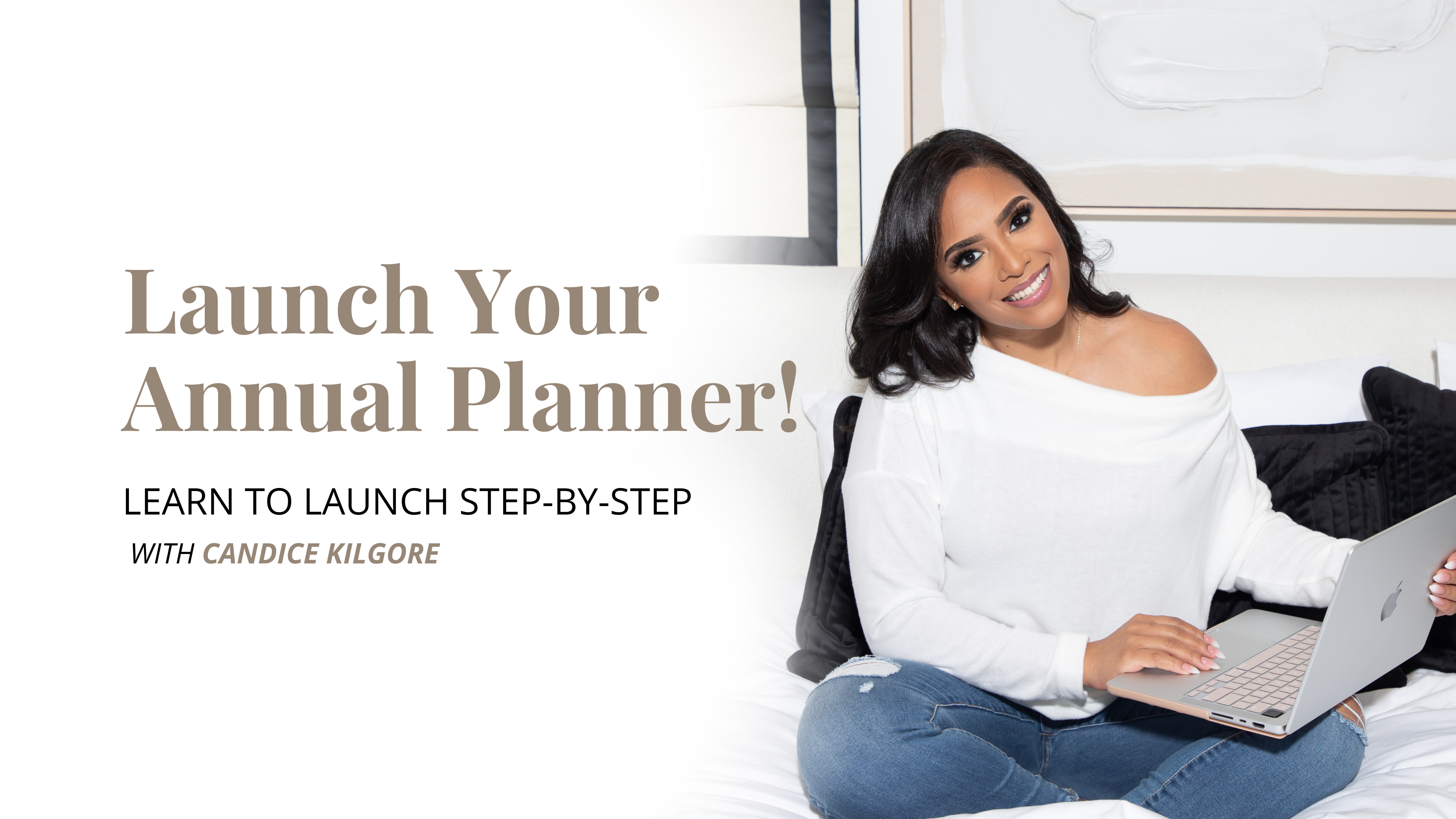 My goal is to teach you when to pay a graphic designer and when you can cut cost and just DO IT YOURSELF! I've been the Graphic Designer and Brand Strategist of Think.Create.Build for the past 10 years. While I love designing for clients, I'm also on a mission to teach entrepreneurs how to design for themselves.
I'm so excited to take this 6 Week Journey with you! I'm prepared to show you exactly how to create a professional, affordable, and ATTRACTIVE Annual Planner that is representative of you and your brand. During this 6 Week journey we are going to go from creation to LAUNCH!
No more talking about that Annual Planner that you are going to launch. It's time to go for it!
LIMITED!! Slots are available for this journey. This is First Come, First Serve. No Exceptions.
Frequently Asked Questions
How will printing be handled?
Printing is not included in the course fee. Printing prices will vary, however prices are reasonable. I'm currently working with Amazon KDP which offers competitive rates and superior quality. Amazon KDP offers Print On Demand services. With "Print on Demand", you will be able to direct clients to Amazon and the Amazon KDP will print, package, and ship to your customers. You will also have the option to order several planners at once and package and ship them yourself if desired.
Will I have to design my Planner?
Yes, I will guide you through an easy step-by-step process for designing your planner inside of Canva. Everyone on this journey will be using my pre-designed 2022 or 2023 Annual Planner templates. You choose which year you want to design your planner for. This template can easily be customized with your Company Logo, Brand Colors, Fonts, Text, and Imagery.
Do you write the content for my planner?
Provision of content is your responsibility.
What if I don't want to come up with custom content for my planner?
If you don't want to add any custom wording, you don't have to. You will be able to use the provided general layout and I will simply customize the planner with your Company Logo, Brand Colors, Fonts, and Imagery.
What platform will be used to design my Pre-Sale Landing Page?
You will have access to my custom Landing Page template designed for LeadPages. Leadpages is a leader in offering tools that allow you to create high-converting website & Landing Pages.
When does this program Start and Finish?
The course is a completely self-paced online course - you decide when you start and when you finish. You can start the course anytime on or after April 12, 2021.
How long do I have access to the course?
How does lifetime access sound? After enrolling, you have unlimited access to this course for as long as you like - across any and all devices you own.
What size is my planner and how will it look?
The Annual Planner will be 169 pages printed in full color, 8.5 x 11. The Planner is a Perfect Bound with options of a Glossy or Matte cover.
What is your Refund Policy?
Online courses are non-refundable. Once the course is purchased/accessed, no refund will be granted regardless of the reason. All online training courses are tested extensively on all types of systems, browsers, and devices. We can assist you to get started with the course, if you are having any trouble.